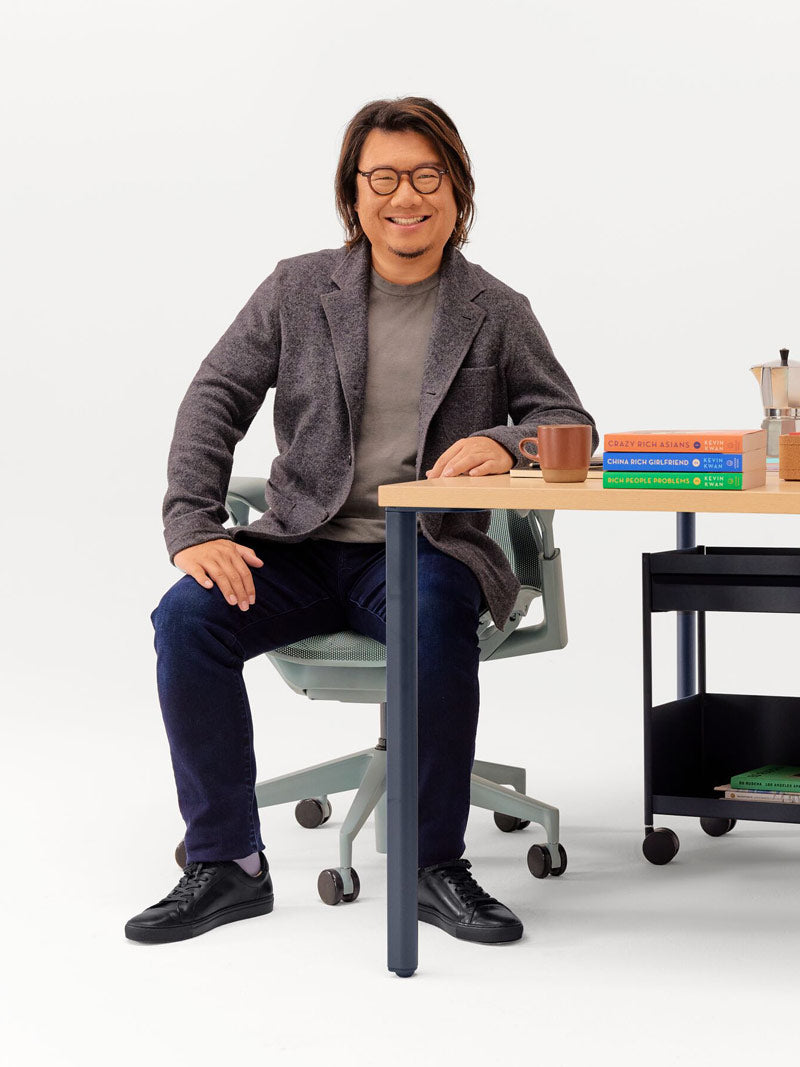 What helps you stay creative and motivated through writing blocks?
"I need a lot of visual references as I write. When I'm coming up with storylines and characters, I have a habit of spreading out postcards and magazine clips in front of me and arranging them in an interesting way. It's why I like working on big desks where there's a lot of space. A lot of times, people on magazine covers serve as my inspiration for characters. I look at it and go 'what would this person do in this particular moment?' then I fill in the blanks. It's a constant visual reminder of the essence of that person that I'm bringing to life on the page.

In the past, If I'm stuck on a particular chapter, I just booked a ticket to go somewhere. It's been a new challenge to force myself to create very transporting worlds when I can't actually be immersed in those worlds. Instead, smell has become a big deal to me in the writing of my most recent novel. I find that burning incense and eliciting a sense memory through smell really helps me."
What is your ideal workspace and home style?
"In my past life as a creative director, I had the privilege of working in these very cool, ultra-designed spaces, so that set a high standard for me. When I started my own business in 2000, it was always very important to me to have an environment even at home that was at a certain aesthetic level, that I could work in comfortably. A space that's functional and inspirational. It's all about editing down to perfection – having a few pieces that are high-quality.

I like to keep my workspace as quiet as possible when writing – very calm, minimalist and organised. I can't write around a great deal of clutter. And then I'll have a few things in front of me to focus on or reference for that day's writing."

What are some work habits that influence your workspace set-up?
"I try to keep on a schedule of writing and that usually means I'm at my desk by 9 a.m. and I stop around 1:00 to take a break for lunch, answer emails, return calls and pay my bills. Then I'll start back again from 5 to 8 pm. I'm a classic procrastinator, which is why I have to create these strict rules. But I'm also a hostage to the muse. When inspiration strikes, I have to rush to my computer.

My posture is terrible, and I love to put my leg up and fold it underneath myself. Or I'm crossing my legs or putting one foot on top of the chair wheel. I'm always shifting, so the auto-adjusting Cosm Chair was perfect. It's very ergonomic and comfortable."
What made you turn to Herman Miller for your new home office?
"I moved to LA not too long ago and after spending many hours in a very uncomfortable 19th century Queen Anne dining chair, I finally said, 'Oh my god, I really need a good office chair!'

Herman Miller is a brand I've known and loved for a long time. I have a multidisciplinary design background, and Herman Miller is iconic in the world of industrial design! Back in the 80s and 90s, I had my cubicle and Aeron Chair. It spoiled me because I immediately realised the difference of sitting in an ergonomic chair."