For the Berlin-based designers at Studio 7.5—Carola Zwick, Roland Zwick, and Burkhard Schmitz—their latest chair for Herman Miller represents something of a holy grail: a design that creates a new reference point for instant, personalized comfort. Cosm's new Auto-Harmonic Tilt, in particular, has been a goal they've worked toward for years.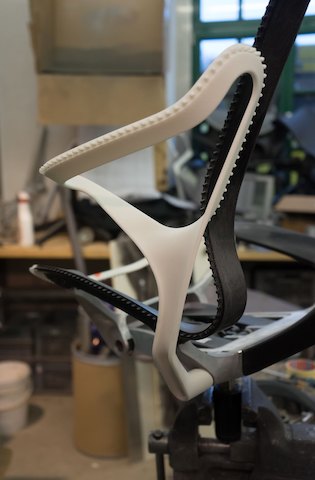 The designers knew, even when working on predecessors like Mirra, Setu, and Mirra 2, that the ideal chair would provide a smooth feeling of natural balance. "You should have a chair that allows you to change postures as easily as possible," Roland says. "You can only do that with a chair that is correctly adjusted, so we wanted to build a chair that does that part for you."
A tilt is to a chair what a transmission is to a car, and like transmissions, some are manual, and others, such as Cosm's, are automatic. With other self-adjusting models, the chair decides how you should sit by forcing the body to conform to the tilt's movement. Cosm's Auto-Harmonic Tilt puts the person first and responds to them—no matter their posture—providing a balanced recline and personalized comfort. Studio 7.5 and Herman Miller perfected the self-adjusting tilt by inventing a complex, finely tuned mechanism. Accounting for the sitter's vertical force—which is always in flux—the gears within the tilt move the fulcrum along a leaf spring to automatically adjust the chair's tension.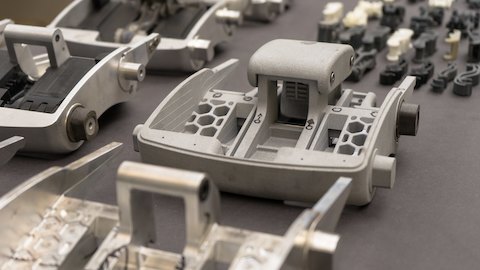 The tilt alone doesn't make Cosm the designers' most refined design to date; a meticulous process of prototyping hundreds of hand-sculpted and 3D-printed parts paved the path toward a seating experience unlike any other. "One of the biggest challenges—or I should say, one of the biggest opportunities—was to determine how to attach the suspension in a way that made it blend into the frame as seamlessly as possible," Burkhard says. The answer came in the form of small "teeth" that allow the suspension material to clip into the chair's frame while staying taut for even pressure distribution. The ingenious way that Studio 7.5 has attached the suspension to the frame is a prime example of what they call "industrial craftsmanship"—a guiding light in their design process. "We like a product that is readable so that you can understand, even if you're not a mechanic or an engineer, how you're being supported," Carola says.
The chair's ergonomic design is further enhanced by Cosm's Leaf Arms—the first of their kind. The design began as an ungainly piece of foam wrapped over wood, but over time, it's shifted shape, size, and nicknames—including motorcycle seat, half-pipe for your arms, and Dumbo ears. "The elbow is a very delicate part of our anatomy; it wants to be placed in a very soft but firm spot," Burkard explains. "Cosm's Leaf Arms follow the overall functional and aesthetic intent of the chair by providing a simple and super slim visual appearance with superior comfort." Cognizant of how we work today, Studio 7.5 designed the arm to provide comfort for variety of applications. The Leaf Arms make holding a phone or book natural and comfortable, and the angle of the arms mean they don't get in the way of a desk when it's time to get back online.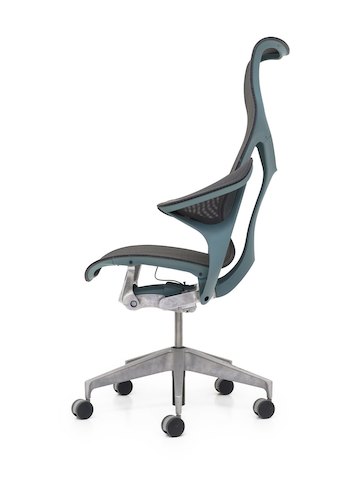 Although technical and engineering challenges occupied much of Cosm's development time, Studio 7.5 was no less dedicated to its aesthetic appearance. With its continuous suspension and sculptural form, the chair appears as a single unified object, and not a collection of parts and pieces. This sense of unity is also reflected in its material composure. "The monochrome coloring dematerializes the object," Burkhard says of the dipped-in-color concept—in which they present the chair in one hue from top to bottom. "The chair is made out of many different metals and plastics, but ultimately, it's just one thing."
The German word for design is entwerfen, which roughly translates as "to throw." According to Carola, that's "throw something a little bit ahead of the curve, or ahead of what you know, to help pull you in the right direction." With Cosm, "throwing" led Studio 7.5 and Herman Miller to their most sophisticated design yet.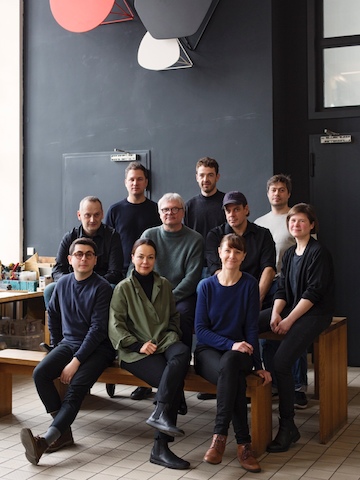 "Design by its nature is collaborative."