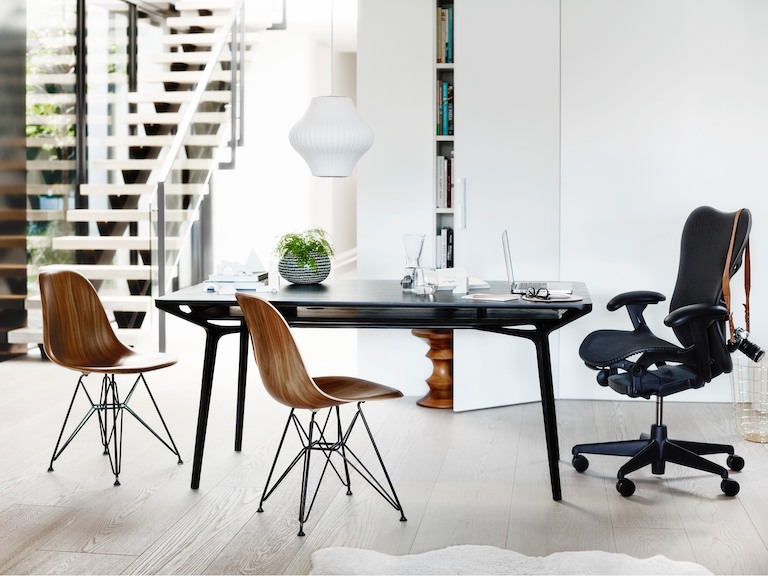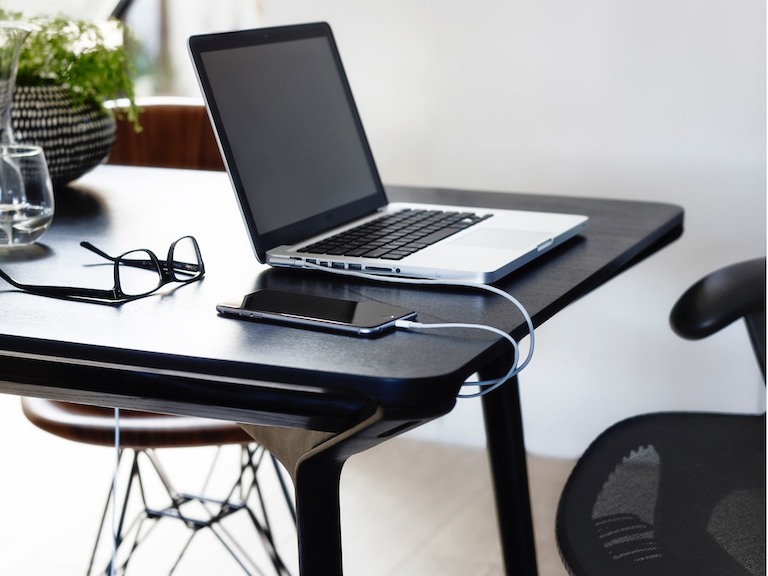 A versatile table with thoughtful storage
Compact apartments that are so much a part of urban living require every space and surface to be flexible in function. To address this need, the Carafe Table was designed to merge the functions of the kitchen bench top and the work desk, and transform easily between working and dining modes. Discreet drawers address storage, giving you convenient places to put objects as varied as cables or cutlery, paperwork or linens. Devices are subtly connected to power sources through cut-outs in the drawer bases. Like the communal vessel from which the table takes its name, Carafe embodies the convivial spirit present when family and friends gather.
Versatile for urban living
When designing Carafe, Sydney, Australia-based designer Charles Wilson reflected on how he lives and works. "In my inner city apartment, the dining table is the most utilised piece of furniture. It's the centre around which all activity revolves. During the week, it's my workstation, a quiet place from which I look out to the harbour, reflect on my designs and perfect their production. At the weekend, it's the gathering place for family and friends who drop in, kids in tow, everyone pitching in preparing food and mixing drinks."
Architectural in form
Inspired by traditional Vietnamese architecture, in particular the timber fishing huts that designer Charles Wilson saw while visiting South East Asia, the Carafe Table is tall and lean, as if perched on pylons. Its broad, faceted main drawer slides out from both sides of the table, making it perfect for storing work supplies or dining accoutrements. Cantilevered shelves at either end allow for additional storage. As Wilson notes, "A good dining table should be able to seamlessly segue from functional work top to elegant entertaining surface, and back again. It should look as good laden with documents or dinner as it does sparse or bare."
Carafe table
General Dimensions
H:730mm
W:1340mm, 1600mm
D:680mm
Shipping Information
Shipping Options:

Your cart will reflect the shipping
options available for your order.

Visit our Shipping and Delivery
page to learn more.

Packaging Type:

Box

Packaging Dimensions:

57"x39"x12"

Package Weight:

Frame: 77 lbs.


Assembly Required:

Yes

Premium Inside Delivery +
Light Assembly Recommended:

Yes

Premium Inside Delivery +
Installation Recommended:

No


The Herman Miller Warranty – Our Promise
Products and Warranty Periods
12 years - All products sold under the Herman Miller brand including Aeron chairs; Eames aluminum group chairs, executive chair, soft pad chairs, table universal base, and table segmented base; Embody chairs; Caper chairs; Celle chairs; Claw round and square tables; Envelop desk; Envelope chair; Everywhere tables; Flo monitor support and dual monitor support; Full Round Table; H Frame credenza, coffee table, and side table; I Beam coffee table; Mirra and Mirra 2 chairs; Nelson pedestal table; Renew oval and rectangular sit-to-stand tables (2-year exception noted below); Sayl chairs; Scissor chair; Setu chairs; Sled base credenzas and pedestals; Sled chair; Tablet mount; Tu storage; Tuxedo sofa, bench, museum bench, club chair, ottoman, and settee; Tuxedo Classic club chair, sofa, corner sofa, settee, corner settee; Swoop work table and coffee table are backed by our 12-year warranty, except as limited or described below.

5 years - AGL table; Ardea personal light; Bevel sofa group; Bolster sofa group; Capelli stool; Distil desk and table; Eames chaise, desk units, wire base elliptical table, Hang-It-All, lounge chair and ottoman (except white ash), molded fiberglass chairs and stools, molded plastic chairs and stools, molded plywood coffee table, rectangular coffee table, molded plywood folding screen, molded plywood lounge and dining chairs, molded wood side chairs and stools, sofa compact, storage units, two- and three-seat sofas, walnut stool, wire-base low table, and wire chairs; Flute personal light; Girard color wheel ottoman, environmental enrichment panels, hexagonal table, and splayed leg table; Goetz sofa; Hanging file folder; Nelson basic cabinet series, coconut chair, thin-edge bed, daybed, marshmallow sofa, miniature chests, pedestal stool, platform bench, platform bench cushion, swag leg group, thin edge buffet, thin edge cabinet, thin edge chest, thin edge bedside table, thin edge chest cabinet, thin edge double dresser, x-leg table; Noguchi table and rudder table; Polygon wire table; Thrive cable management clip, Mobile CPU holder, desktop power outlet, HM Connect-S300, keyboard/mouse support, magazine holder, marker/eraser holder, pencil drawer; Tone Personal Light; Twist LED task light; Wireframe sofa, chair, and ottoman; Logic Power Access Solutions; Ode lamps; Swoop lounge chair and ottoman

3 years - Eames aluminum group outdoor, lounge chair and ottoman in white ash, table outdoor, and wire base low table outdoor; Nelson pedestal table outdoor

2 year - Renew Sit-to-Stand tables power leg access option

1 year - Formwork; Nelson bubble lamps
Other Manufacturers' Products
2 years - Magis- and Mattiazzi-branded products are warranted for two years from the date of purchasse by the original purchaser.
What's Covered
Our warranty covers everything—including electrical components, casters, pneumatic cylinders, tilts, and all moving mechanisms. It recognizes the changing nature of work and the need for products that can stand up to continuous use. And it means that when warranty work is performed in the U.S. and Canada, Herman Miller foots the bill. At Herman Miller, we work for a better world around you. Our products—and our promise to stand behind their quality 100 percent—are designed to improve your environment whether it's an office, hospital, school, home, an entire building, or the world at large.
How to Schedule Service
If you need product service or repair, please contact the Herman Miller dealer, retailer, or our online store where you purchased your product. They will be able to make the final determination whether the issue is specifically covered under the warranty and eligible for replacement or repair.

Phone: +852 9729 1767
Email us